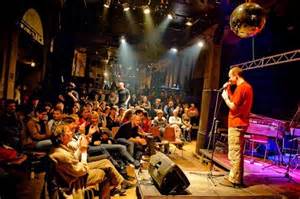 For all the poetry of slam's beginnings and the excitement of national competitions, it's the local scene that matters to most people. The essential ingredients most fans value are the poets themselves and their teams: without them, there would be no slam poetry and nothing to cheer.
P4 celebrates the community of slam poets. The people who inhabit this culture convey slam's heredity and the rare history that began in 1987. They compete with one another, but only in the sense that siblings compete while growing into the world. And brothers and sisters are indeed what they are within the family of slam, and it is as members of this family that they respond to one another.
Slam poets form teams so that they can engage on a larger stage, share meals, rides, motel rooms and performance experiences while touring from place to place to meet new challenges and ever more poets and fans. Sure, they accrue some minor level of fame, but that's only in passing. It's really the slam life itself, and the people who live it that draws them forward and inspires them to continue and to perfect their craft.
We also raise our tankards to the venues that give poets the opportunities to perform their art regularly before audiences. It has famously been said that "there's no money in poetry," but the bars, coffeehouses, student unions, churches and restaurants that welcome slam poets to their premises look beyond that: "there's no poetry in money," either. But there is poetry within the walls of these places because their stewards saw that there is also value in slam's people, their craft and their audiences.
Thank you all, poets, teams and venues alike. It is you that brought us to form our organization and inspire us to preserve your fleeting art. We wouldn't, we couldn't, have done it without you.