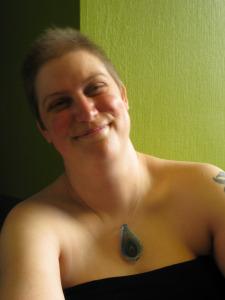 Name and AKAs:
Karen Garrabrant

Websites and Social Media:
About the Artist:
Karen (aka Karen G.) is a decade-plus slam manager, poet, fanatic, host, and organizer in the Atlanta area. She curated events twice for The Atlanta Queer Literary Festival, Ladyfest South and Estrofest's Seen + Heard Festival and served on the board of directors for the first Rock Camp For Girls' (ATL). She is a performer, host, organizer and coach for Art Amok! and partners with the nation's oldest feminist bookstore, Charis Books & More in running Cliterati. She's coached ten teams to compete at the annual National Poetry Slam. She's been an Assistant Tournament Director, volunteer and emcee for the Individual World Poetry Slam and the Tournament Director and competing poet in the Women of the World Poetry Slam. By day she works behind the book spines at Emory University's General Library. Karen is also the current corporate Secretary for Poetry Slam, Inc.
Additions or Improvements?
If you see any inaccuracies or have information to add to this record,
contact us
to let us know.